Women's Voices in Ukrainian Literature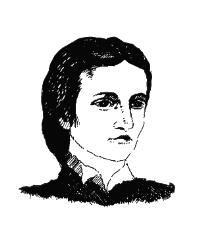 Olha Kobylianska (1863-1942)
Biographical Sketch
Olha Kobylianska was born into the family of a minor government official in a small town in the Ukrainian province of Bukovyna. Despite the modest income of the father, all five sons were able to receive a higher education. The two daughters, however, in keeping with the prevailing view that a woman's place was in the home, were left to their own resources after completing only four years of elementary school.
Fortunately for Olha, the best traits of both her parents were passed on to her. From her father, a self-made man who was orphaned at an early age, she inherited a passion for work and a determination to succeed. Under the guidance of her mother, a kind, gentle woman of Polish-German parentage who was inclined towards the arts, she learned to appreciate beauty, music, and literature.
Growing up amidst the magnificent panoramas of the Carpathian mountains, the sensitive young girl responded intensely to the beauty that surrounded her. Her love of nature was rivalled only by a deep appreciation of music. Both of these passions sustained her during many trying periods in her life and are very much in evidence in her writings.
Olha read voraciously from an early age. Having been schooled in German, the official language imposed on Bukovynians in the Austro-Hungarian Empire, her reading consisted mainly of the works of German authors and world literature translated into German. Encouraged in her literary efforts by her brothers and older sister, young Olha started out by writing poems and stories in German.
In 1884, Kobylianska came under the influence of Nataliya Kobrynska, the leading theoretician of the women's movement in Ukraine, and Sofia Okunevska, the first female physician in Austria-Hungary, who generously shared with Olha the knowledge and perspectives she had acquired abroad. Recognizing Olha's talent, these two women encouraged her to read philosophical works, improve her knowledge of Ukrainian, and devote herself to writing in that language.
Fortunately, Kobylianska listened to their advice. Initially however, she wrote her stories in German, and either translated them into Ukrainian herself, or asked established authors to translate them for her. Over time, some of these translations were edited and published in different versions, with significant stylistic and linguistic variations that give rise to unique difficulties in translating her stories into English.
In 1894, Kobylianska's first works appeared in Ukrainian journals and were received most favourably in both Western and Eastern Ukraine. She quickly established herself as a writer of note, and her works were translated into Russian and other languages by writers such as Olena Pchilka. In turn, Kobylianska translated Ukrainian literature into German, including the works of Pchilka, Kobrynska, and Ukrainka--writers featured in other volumes of Women's Voices in Ukrainian Literature.
Kobylianska won special acclaim from her contemporaries for her novelette Tsarivna [The Princess], written in the form of a diary. This work, published in 1896, is one of the first attempts by a Ukrainian author to write a psychological novel in which events are presented through the inner experiences of the proud, highly moral, intelligent, and sophisticated young woman who is the main character.
This heroine, like many of Kobylianska's protagonists, resembled the author in her philosophy of life, her refined sensibilities, her highly developed aesthetic tastes, and her disdain for the pettiness, vulgarity, and materialism of the society in which she lived. Indeed, it is said that Kobylianska's expectations of people were so high that she had very few close friends, and that she never married because she failed to find her ideal soulmate.
Through her friendship with Kobrynska and Okunevska, Kobylianska became involved in the women's movement in Ukraine, giving speeches and writing articles. In her view, in order to lead harmonious, meaningful, and morally uplifting lives, not only women, but men as well, had to raise themselves spiritually, intellectually, and culturally.
In 1899, after Kobylianska moved to the city of Chernivtsi, she established a close friendship with Yevheniya Yaroshynska, participated actively in Ukrainian literary circles, and developed close ties with a number of prominent Ukrainian writers such as Lesya Ukrainka, Vasyl Stefanyk, and Mykhaylo Kotsiubynsky.
After becoming partially paralysed in 1903, she could no longer participate in community events. Her health failed during the First World War and, in 1925, she travelled to Prague for medical treatment where she was received warmly by Ukrainian expatriates. Her works influenced Ukrainian women's movements in North America and, in later years, when she found herself in straitened circumstances, she received financial assistance from various Ukrainian women's organizations abroad. She lived to see World War II and died under Soviet occupation in 1942.
During her long and productive career, Kobylianska, who always remained true to her principles, created a rich treasury of short stories, prose poems, novelettes, and novels. By the end of the first decade in this century, she was acknowledged as one of the best prose writers of the modernist school in Ukrainian literature.
©1998 Language Lanterns Publications
ISBN 0-9683899-2-9 (v.3)
Sketch by Roma Franko; Edited by Sonia Morris
Volumes this author appears in:
©1998-2016 Language Lanterns Publications, Inc.
Contact Webmaster Site created and maintained by Cipko Consulting Ltd.